In our first Pinterest board release of the year; we are giving you all the inspiration you need, from pattern style and colour stories to product materials and texture direction. Check out our Pinterest Board!
Now is the time to search for the beauty in the disorder; gently expose weaknesses and reveal new strengths. This trend explores resilience and recovery when things breakdown; it is a quest for truth and realness. At its core is 'Wabi-Sabi' – the Japanese philosophy of finding beauty in imperfection and the art of 'Kintsugi' – repairing damage and breakages with precious materials. This trend is firmly linked to wellbeing and mindfulness, a desire to live a clutter-free life. It integrates harmony, tranquility, peace and balance with a longing to be in tune with nature.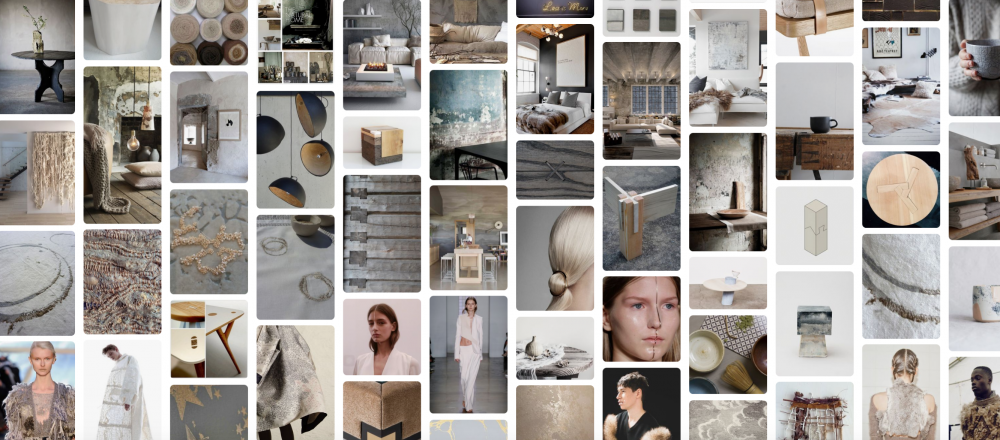 We have been discussing this design direction for a while; we began with writing a blog post at the beginning of 2018 about How to embrace the art of Wabi Sabi, encouraging our readers to rethink what has worth, what should be salvaged or restored and what should be cherished.
A handmade approach with a luxurious attitude… 
How have we worked with this trend? We created a 'Christmas Window' visual merchandising display; inspired by this trend; at Exclusively Housewares. This gave visitors ideas and inspiration on how to effectively merchandise in-line with consumer trends for seasonal display.
Imperfect Beauty was also a trend we displayed at The Stationery Show; showcasing beautiful products from designers who embrace the art of 'Wabi Sabi' for example Castelli (pictured below).
Imperfection is celebrated as a form of authenticity, naturalness and creative expression… 
Castelli have translated the ancient art of Kintsugi, as well as the philosophy of Wabi Sabi onto note books in 3 different colour ways and textures. This look represents a new type of luxury that it earthen and explores the beauty of both ancient skills and an appreciation of perfectly imperfect product design.
We also like to track when we see these trends come into fruition. For example elements of this design style were spotted being incorporated by up-and-coming designers at Australia's longest running design competition VIVID.
A quest for the Truth… Embrace realness…
"Boasting all-natural, rich materials, the house gives you the feeling of being in the middle of nature while inside"

Norm Architect
Image – Danish Practice Norm Architects
From well known Architects to high street brands, there has been an abundance of information and material that has been inspired by this style. One of our favourite is H&M's latest campaign…
H&M's 'Take Care' Campaign encourages customers to repair, remake and refresh. They list a variety of techniques, tips and hacks to help salvage products they might have once thrown away. This includes methods on how to remove certain stains from garments such as chewing gum or make-up. How to properly care for different material types including leather, wool and silk to give them a longer lasting life and also how to mend, hem and sew to repair items.
Repair, Remake & Refresh
We need to address our 'throw away' culture – Reconsider your own belongings and decide which items you truly feel you can't live without. Contemplate what things do you own that you might wish to pass down to the next generation and think more about how the 'wear and tear' of a product can simply add to its beauty; telling its own story. Don't discard damaged products so easily, mend things beautifully and cherish them anew. Textiles and fashion items are a great example of how we can turn an unwanted or damaged garment into something truly unusual, unique and special… don't throw away your favorite knitwear just because it has a hole in it!
Image – Zara Home Regent Street London
If you would like more information on this trend or any future design reports please get in touch!