The Surface Design Show focus' on interior and exterior surfaces specific to the building, architectural and interior design industries. This immersive environment enables us to select product from new designers for future projects, we are also able to confirm our past trend predictions in real time relating to themes, materials, colours and pattern design.
With growing advancements in technology, and a shift in society paying vital attention to environmental issues, it is more important than ever for designers and architects to search for innovative surface solutions that appeal to the conscious consumer. Clients and specifiers are actively sourcing products and materials that in some way have a positive impact on the environment; from recycled plastic to all-natural surface creations. There was a clear theme from both new talent and well-established businesses moving towards a more sustainable future in material use and manufacturing processes. We have outlined 3 prominent trends that dominated the show including Urban Waste, Tactile Interaction and Extreme Nature.
Here are the surface and material designers to watch…
---
TREND 1 – Urban Waste
There are increased concerns and a growing consciousness from consumers regarding our impact on the environment; including our use of natural resources, rising levels of plastics in our oceans and the huge amounts of urban waste generated by society each year. In response to this, designers explore new solutions sourced from industrial and consumer waste streams. Our waste has become the starting point for initiating inventive ideas for material use in product development and building methods; where future cities embrace circular practices in order to protect our planet.
From repurposed post-consumer & post-industrial materials to recycled plastics and reclaimed composites; these resourceful designers are changing the way we perceive 'waste' materials.
---
This is a material made from non-recyclable paper fibres. The designer uses the fibres that are no longer fit for paper manufacturing to make a solid material that has a natural stone-like appearance.
This material is then used to make building blocks for furniture pieces like tables, benches, stools and cabinets to be used in a domestic or workplace environment. Not only does this method add value to a waste stream which helps the industry, but it also makes the user aware of the industrial waste problem.
This material has the potential to replace natural stone.
Urban Terrazzo is an innovative material which transforms the remains of architectural debris into a new surface material for architecture and design. Urban waste – such as concrete, bricks and other building materials – is carefully selected and reassembled by the principles of traditional terrazzo-making, supported by contemporary technological innovation. Ultra-High-Performance Concrete gives structural stability to old remains, while grounded pigments from old bricks preserve the unique character of the former architecture.
"As designers, we strive to give new life to disposed architectural remains. The urban waste is analyzed by its colour, structure and visual quality to become the basis for a new unique piece of Urban Terrazzo. From origin to original."
Industrial Craft is a material based project focused around utilising plastic waste streams associated with CNC fabrication and repurposing industrial material waste as a secondary raw material. Through material exploration, the outcome was a durable and versatile composite material that has the capabilities to be cast in diverse 3D forms of various scales and colours.
Lithoplast is born from the union of waste material from three diverse industries; plastic fragments that cannot be consumed by the recycling industry, dust and solid residue from coal-mining and powdery remains from stone-masonry. This project is driven by the effects of climate change, continued deforestation and the on-going spread of pollutants that inevitably threaten the existence of many natural raw materials used in traditional craftsmanship.
Imagining a not far future where petrol-based plastics can be collected only from nature, mined and used by a craftsperson as a new natural raw material. This new clay-like material using discarded plastics and waste streams sediments, is envisioned as a valuable commodity that future civilizations will mine.
This material can be used for sculptural handmade products and it's potential for interior design applications is being tested at the moment.
Plastic Stone Tiles by Enis Akiev
This designer has created her own material for interior use by recycling single-use waste products, resulting in tiles that mimic natural stone structures.
Plastic waste makes its way into our geological landscape by becoming part of stone sediments on beaches and forming a new kind of stone named plastiglomerate.
The designer aims to raise the value of plastic trash, showing the external costs and change the perception so that it is no longer seen as trash.
---
TREND 2 – Tactile Interactions
One of the great things about the Surface Design Show is how immersive and tactile it is, when walking through the exhibition you find it hard not to touch and feel everything on display. But of course it is our human instinct and desire to engage our emotions both physically and mentally through our senses. We need to be able to explore and investigate through touch; especially in this modern, technological dominated world. In contrast to the smooth interfaces we find ourself surrounded with on a daily basis, humans need tactile elements, visual stimulation and playful approaches to design in order to create an emotional balance. These designers investigate human-centric design, challenging structure and form, exploring unconventional material combinations and textural surfaces with visual and tactile quality.
---
Iwan is a multidisciplinary designer who focuses on the human perception of matter.
Creating a sensory experience through the experimental use of material and colour is the starting point for his investigative design methodology.
FUR is a wall tile that desires to be touched. Inspired by the fur of animals it can create a soft looking and seamless surface both indoors and outdoors. This 3D tactile concrete tile will provide a broader experience for the user that goes beyond visual appearance.
Yasmin is a recent surface design graduate, based in London, who specialises in sculpture and colour and creating beautiful designs and forms using plaster and other mediums. Her attractive shape and texture compositions create exciting visual and tactile arrangements.
This project is a series of experiments with the aim of humanising concrete. Throughout the experiments, the focus
was on the possibilities of overcoming the negative stereotypes associated with concrete and how to create a new, more pleasant and softer look for a generally industrial material. A further aim of the project was to offer alternatives of innovative concrete wall coverings with a new visual experience for interior designers. Using concrete creatively; for architectural, product and furniture design; makes the interaction truly unique and intriguing.
Hiroki Furukawa's Paper Skin creates a structurally dynamic 'cloth' from laser cut paper, with limitless potential for furniture and even fashion design.
The intricate connecting layers create a lightweight, moveable and robust material. Joined using thread, a secondary colour is revealed through touch and interaction.
Modular Touch by Lucy Williams
Graduate surface designer Lucy Williams has created objects which have been made out of re-used plastics, resins and jesmonite. They absorb light with the idea that the user can interact with the various shapes to explore unique combinations and form new shapes. They are innovative through their playfulness and 3D form, furthermore they bring awareness to how we re-use materials and how what we sometimes can perceive as 'waste' can be reinterpreted; having a second life as Art.
---
---
TREND 3 – Extreme Nature
Of course another key theme to this years Surface Design Show was the inclusion of organic and natural elements. Far reaching research and inventive future thinking is paving the way for investigations into materials that are focused on incorporating connections to nature in all areas. As our urban cities become more crowded, it is important to consider Biophillic design; finding imaginative ways to blend nature into our homes, social and work spaces. From mini eco systems in our kitchen areas to living walls in our offices; we strive to improve our air quality, increase our focus and better our physical and mental wellbeing in order to live healthier, happier lives.
Grown surfaces such as crystals and bacteria become more sophisticated; creating new hybrids. Living organisms such as moss, plants and foliage are stabilised to open up exciting possibilities for interior application. Deep bark textures were seen for wall panels and materials such as bamboo, wood and cork provide solutions for natural, renewable and sustainable uses. Products that are free from toxins and chemicals, surfaces that are biodegradable and designs that use only plant based dyes all address growing concerns relating to the survival of our planet.
---
Hand-woven fabric design embellished with naturally grown crystals. The crystals are grown within the structure of the fabric to create a mineral surface of cultivated embellishment. This experimental approach to textile design evokes further investigations into how we can add new dimensions to existing materials. By allowing the growth of crystals to form naturally, adds an organic, intuitive and uncontrollable design element which decides the aesthetical outcome of the piece; embellishing each differently. The fusion of science, textile techniques and creative design has a powerful impact both in a visual and tactile sense.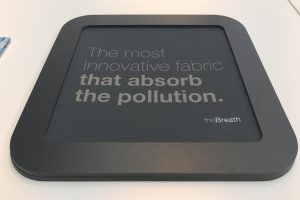 The Breath® is the first zero impact fabric that needs no power source to be activated. This innovative textile actively absorbs pollution in our atmosphere. Anemotech S.r.l. is an Italian based company founded with the aim of developing technologies to enhance people's well-being, improving their quality of life and promoting a healthier environment.
The technology is designed to adapt to any indoor space, the fabric allows the pollutants generated by heating systems and chemical products to be reduced, creating a healthier and safer habitat.
The fabric is also suitable for outdoor use in cities; it can be used on buildings, street furniture, road signs, construction site fencing, advertising systems, building sites and near air conditioners and boiler flues.
Seagrass Products by PHEE PC
The resource that PHEE is currently harnessing is the dead leaf of the vascular sea plant Posidonia Oceanica. According to scientists, this is one of the oldest living organisms on Earth which is annually washed up in abundance on the Mediterranean shores and is disposed as waste.
After 3 years of Research & Development PHEE's team has brought those leaves back to life, being the first company worldwide to fully utilize them as a primary raw material.
The company prides itself on stimulating awareness of the commercial use of this unique material, promoting environmental and social responsibility and crafting a range of applicable products with this pioneering natural material.
Product designer Poppy Pippin created a series of Wall tiles that encourage moss growth to improve air quality in the urban environment by absorbing carbon dioxide.
The Moss Tiles aim to address air pollution, which affects the health of people living within cities. The material, shape and texture of the exterior wall tiles promote moss growth in order to absorb the carbon dioxide in the atmosphere.
The presence of moss will also bring nature into the cities, encouraging a connection between people and the environment.
Earth is a completely eco-friendly, 100% biodegradable carpet; inspired by a desire to reconnect with nature. Casalis flexed their creative and technological skills, employing an innovative, 3D tufting technique to create a 3D structured carpet that mimics the texture and appearance of moss. In order to truly live up to the name of EARTH, Casalis resolved to use all-natural materials in the creation of the collection.
This included, organic wool, natural latex, and the plant-based dyes used to colour the carpets which have been appropriately named after earthly elements.
For further information on future surface design trends please get in touch!