It's August, the weather is glorious (mostly) and right now life is all about being outdoors as much as possible.  And that means that magazine pages are crammed full of this season's 'must have' outdoor products and warn of your total humiliation if you don't have a huge water feature in your garden by the end of the week!  Thankfully, I'm here with 5 top tips to cut through the codswallop and ensure you make sensible and sensational al fresco decisions this summer.
1. Furniture & Textiles
Garden furniture is not an impulse purchase.  Don't get caught up in bargain priced tables & chairs in 'fun' colours made from bits of plastic, tubular metal, and wood that's one grade up from balsa.  Simply steer clear of 'special offer' furniture on display outside supermarkets and DIY stores, because if you do buy it you're 1 season away from owning a pile of sun-faded, fraying, rusting, rotting, cracked, creaking, wobbly, wonky junk!  Buy the best quality furniture you can afford and you'll stand a chance of being able to use it again next year.  Want to stay on-trend? Think low Moroccan corner sofa or chaise lounge, cushions, cushions, cushions … plus an outdoor rug!  Yes, an outdoor rug!
ABOVE: Ikat cushions from Etsy seller CoupleHome in the UK; Treviso outdoor area rug from U.S-based CoolBackYards.
2. Lights
Unless you actually want your outdoor space to look like a bar, you might do best to avoid multi-coloured lights.  A warm 1 colour glow is the way to go (Think Bruce Munro's work as pictured below).  Alternatively a subtle cold white shimmering light can also look magical. Don't overdo it – you're not looking to create enough light to land a plane – simply aim to create pockets of illumination that highlight seating areas and features such as trees, larger plants, pathways and sculptures.
ABOVE: Adjustable pathway lights from Florida-based Interior Deluxe; Halley curved LED floor lights designed by Jordi Vilardell & Meritxell Vidal for Vibia available from OLighting; Field Of Light by Bruce Munro.
3. Sculptures & Water Features
Big is beautiful when it comes to garden sculptures and water features … so don't be buying tinkling little fountains and collections of random little ornaments.  In fact ornaments have no place being in your garden unless you're going for a purposely kitsch thing!  Be brave enough to make a big, bold, simple, singular statement or display a cluster of smaller, but nevertheless striking, cloned pieces together as a grouping (like Neil Wilkins' 'Raindrops' pictured below).  Top Tip: Rounded, curvaceous shapes will likely turn out to be easier to live with in the long run than sharp, thin, spiky shapes.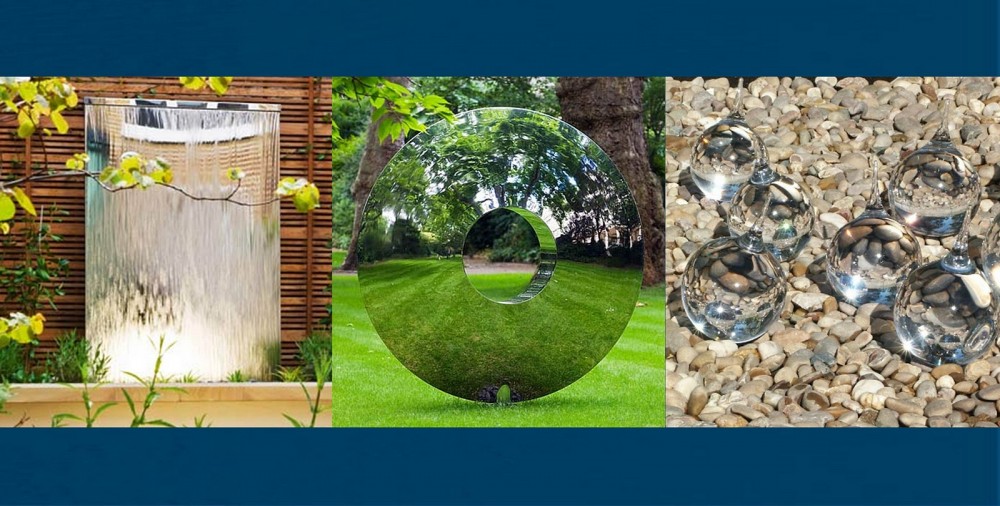 ABOVE: Mirror-polished stainless steel Water Wall by UK-based David Harber; Polished stainless steel Torus sculpture by UK-based David Harber; Glass Raindrops by UK-based Neil Wilkin.
4.Tabletop
I'm sure you'll be very familiar with the trend for bringing the outdoors, indoors.  But I'm a big fan of taking the indoors, outdoors – essentially creating outdoor living rooms and dining rooms with the same level of quality and decorative values that you'd look to achieve inside your home.  In fact outdoor dining areas are the perfect place to be even bolder with pattern and colour that you might be inside your home.  So experiment with mix & mismatched patterns and clashing colours.  Dare yourself to try something outside of your normal style.
ABOVE: Coral & Wilde's Seaside patterned tableware from Brooklyn-based designer Jill Fenichell of Bongenre (the Queen of melamine!); Chainlink table runner from U.S-based etsy seller The Preppy Owl Boutique; Teal cookware & serveware by Le Creuset  (perfectly suitable for use on an outdoor gas grill).
5. Heaters
Yes, outdoor heaters are a practical purchase, but that doesn't mean they can't be gorgeous!  If you think of them as statement design features, almost sculptural, then you'll be on the right track.  So whether you go for a natural fire pit or gas flames, seek out a heater with some serious personality or you'll have missed an opportunity to add some serious style to your outdoor space.
ABOVE: Allison Kindle Heater by California-based Kindle Living; Roberta Linear Fire Pit from Toronto-based Paloform;  Fire Table by UK-based David Harber.
Buy the very best quality you can afford & be brave enough to make a bold style statement.