This week we have been working with the London Stationery Show who invited us to design and curate their Trend Hub area as a feature for visitors at the show. We were positioned at the very heart of the Business Design Centre and with a range of exciting products on display, colourful give aways and lots of trend information to absorb, we attracted the attention of anyone who walked past.
We featured 4 key design trends at the show with translation into Stationery product relevant for 2020. Take a look at our display in the video highlights at the end of this post…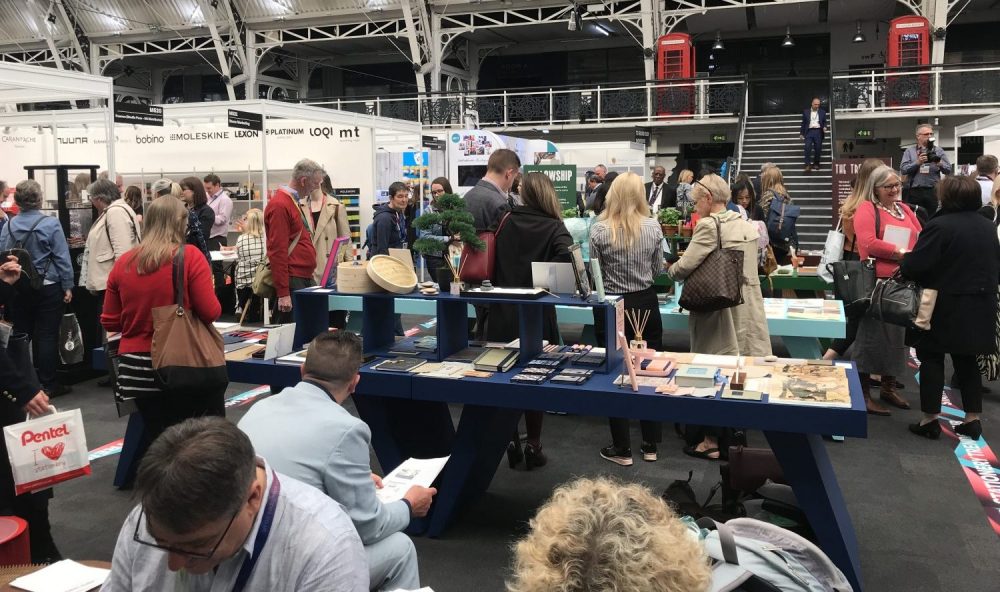 Stationery Trends 2020
SATORI (a word that refers to the experience of seeing into one's true nature). This trend encourages consumers to find a natural rhythm and balance in order to cope with the complexities of modern life and the distractions of the online world. During the Summer of 2020 the Tokyo Olympics will focus attention on Japanese traditions, arts, crafts, design and nature.
THE GAME CHANGER bringing together a selection of exhibitor products plus materials & product samples from Makers around the world that have reused waste materials and recycled materials in their work. Products that address pollution and have an ecological agenda; something that is essential as consumers become more concerned about environmental damage & climate change and how their individual choices, purchases and actions can have an impact – positive or negative.
FELLOWSHIP a trend that promotes the power of the Collective – working together to carve out a better future. It has a global outlook; celebrating cultural diversity and placing ethics at the centre of decision making. Collaboration and community are key. It is experimental, colourful and joyous; showcasing a cultural mix of pattern.
THE TRAVELLER the overall style takes its aesthetic cues from a mature luxuriousness; an understated glamour with products that are controlled, ordered, stable, made to last, disciplined, precisely crafted and pristine – demonstrations perhaps of our attempts to bring order and control into our lives at a time of great uncertainty, instability and disorder in the world. Dark woods, brass, plush velvets, dark marbles, faux tortoiseshell, Bakelite-like resins and fine grain leathers set the tone of this trend that has Art Deco influences as we enter the roaring 2020's.
Video Highlights

Huge thank you to all of the exhibitors who supplied product for us to display and to Staedtler for our highlighter give-aways. For more information on what exhibition features we can provide please get in touch with phil@scarletopus.com