The color of … the shape and texture of … a relevant material for … appropriate patterns for that are … sometimes it's possible to forget the sheer breadth of uses the research our team conducts can be put to.
Some really interesting, exciting and even unexpected ways in which it can benefit people and business…
If we take a design trend identified to emerge this autumn/winter that's been widely spoken about with regard to interiors, furniture and so on … but recently we had the opportunity to present it in light of 'food' … how might it have a physical manifestation in food; indeed could it. Let's see how it might work …
The Villager, she is adventurous, carefree and open-minded.
The trend acknowledges that the world is not stable, it seems to be in a constant state of flux. A time of perpetual change and conflict: geopolitical upheaval, technology saturation, an environmental tipping point, increasing economic hardship for many … perceived threats from all angles. This trend presents and alternative coping strategy.
In the face of all of this uncertainty some people will choose, are choosing, to face the future with a carefree attitude absolutely refusing to be distressed or doubtful or indeed, to conform. These people, will instead take risks and resist the 'single-world' culture of globalization and homogenization. They will take the tensions & antagonisms felt and weave them into something positive …
(Perhaps unexpectedly, this will especially resonate with older people: they've seen it all before and developed a confidence that comes with experience of life.)
If you have a restaurant or hotel dining room and you like the ethos of The Villager trend, maybe you are someone who is already a happy, carefree non-conformist. Someone who wants wide appeal to a diverse range of customers providing them with respite through food, from the complexities and stresses of their daily lives … then you might consider a menu that reflects …
… oh before we start, have mentioned the 'oldies' (like me) we ought to say that (if you already know … just a sec) the Millennial generation is (another 'first' for them) the first generation not to be taught how to cook by their parents. Instead they are teaching themselves via magazines, YouTube and TV. This has made them very adventurous when it comes to trying new foods & cuisines …
… now where were we … oh yes; that reflects some of these ideas.
Food and cooking has become an adventure to many people, an opportunity to travel around the world without leaving home. With this in mind, using The Villager trend for inspiration you can take them on a trek of central & eastern Europe and across some of the 'stan' nations savoring contemporary versions of traditional national dishes. Meals eaten in Hungary, Ukraine and Uzbekistan – old world nations.
The colors, patterns of tableware, textiles can all add to the trekking-experience, the perception of travel. The Villager 'color + pattern' lends itself to this food-journey.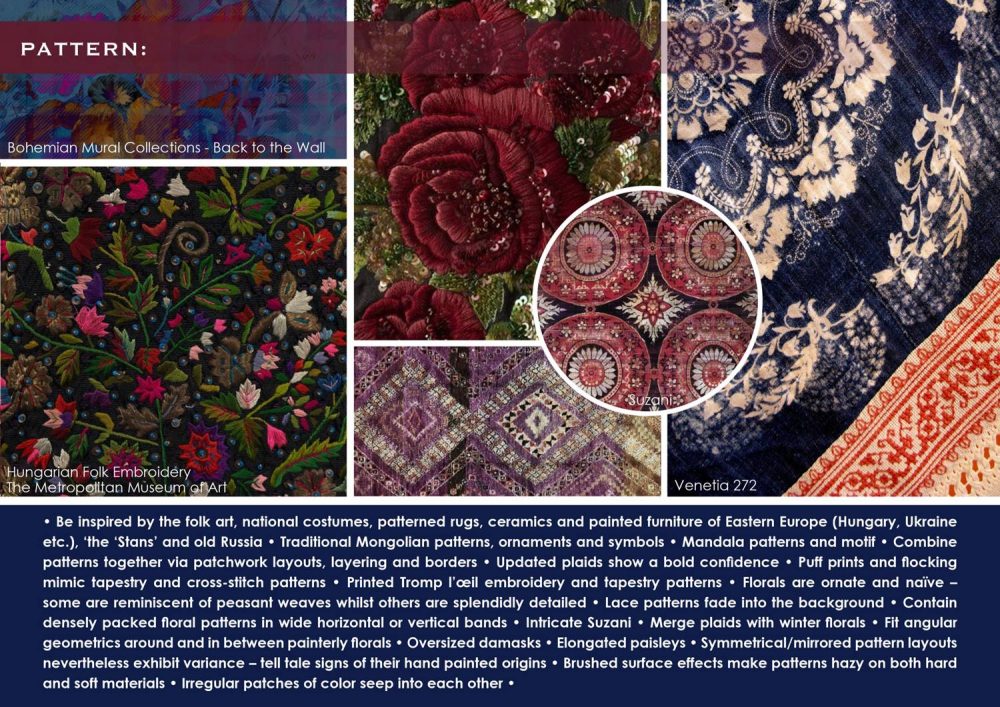 Using this trend to inspire home-cooking or a great restaurant experience is all about a mix of cuisines and cultures but not one of those enormous menus that 'Ramsay' has nightmares about; more a specific journey across a mix of cultures and cuisines with common themes showing your expertise, knowledge and great restaurant!
You will mainly be showcasing stews, soups and 'one-pot' cooking (which is also how they should be served). This is the common connection across the different countries. Imagine the novelty of 6 diners all eating a different stews, originating from a different country, but all eating from the same pot (in style, not literally the same pot!) it would make a connection between them all that doesn't exist when different meals are served on different tableware.
That one-pot becomes a passport for each person, to be used to cook + taste different nations foods. From a restaurateurs viewpoint, this is also an opportunity to serve drink-flights (see what we did there … flights … travel …) to each person or group.
In putting together your menu (the physical one customers look through) and marketing materials, or getting together a quiz for your dinner guests at home; it's worth noting that many of the dishes in the pictures above were originally eaten by the people who worked the land. They needed hearty, filling meals from available produce or which they could grow. This means that they might now now be considered the healthiest of meals. But to create a contemporary version you could adapt recipes to enable the use of local produce and take inspiration from bloggers or chefs who have already created modern day 'healthy' versions of each meal. This could be described as, what some might call, a mix of old and new peasant food. It might also be called 'Healthy Heritage Food'.
So there you have it … the research of a consumer design trend for completed to inform out 'interiors' forecast and how it might inspire a food journey for a new restaurant menu idea, or a friends dinner party!
If you would like support in creating a theme or story, for a successful restaurant experience … you know where we are … but you can start here
Speak soon but taraa for now!