We were recently invited to do an interview with a well known Australian Freelance Journalist and Design Writer, Angela Fedele and having known her for several years we had absolutely no hesitation in accepting. With a 9 hour time difference between the UK day and Australia's, getting the logistics sorted was all that stood between Victoria, Angela and a blockbuster Podcast!
Angela has created a powerful Podcast series called PROTECT
PROTECT is an environmental podcast that explores encouraging stories of sustainability, ocean and animal protection. The show features regular guest interviews with climate change advocates, organisations and concerned citizens who are creating authentic and accountable change. Angela is attempting to reframe the generally distressing way environmental challenges are communicated across media and social platforms in a bid to leave you educated and inspired. She ventures globally (obviously) for stories and is well on the way to building a positive community in solidarity of a clean and protected planet.
It hadn't really struck us before talking to Angela, but she was absolutely, most times issues to do with the environment are presented in a negative style which tries to bring about change through fear. (On how many fronts are we all now influenced, managed, controlled by the tactic of FEAR). There is, as Angela says so much news about past, current and planned environment improvement initiatives, that it's time to focus on this aspect to encourage more, sooner … world's media listen up!
The result was a Podcast that runs for a while because the discussion deepened, views were strong and the content inspiring … but you could listen in bite size chunks convenient to you. Here's what one very well respected Business Leader from a Global Company had to say having set aside the full 53 minutes 22 seconds from his day t listen to it: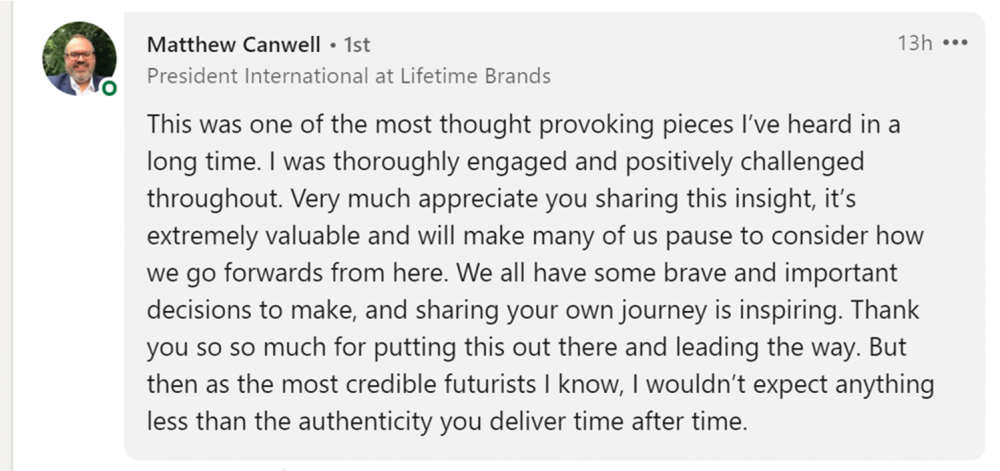 If your company wants to increase its 'Share of Voice' in Australasia, don't make any decisions before speaking to Angela would be our suggestion.
We hope you enjoy listening and if you have any comments or questions feel free, in fact please do, let us know, we'd love your feedback or to be able to help you.