If you follow us on social media you will have seen the countless updates from our recent trip to Dubai… The Index Design Series is a huge exhibition dedicated to creating the ultimate design experience for visitors. It encapsulates every facet of interiors including lighting, textiles and workplace design. It brings together the globe's most knowledgeable influencers to discuss the latest trends and techniques and it inspires through unique design spaces and experiences to keep you at the forefront of design innovation.
The theme for this year was 'Design for the Senses' which demonstrates how you can stimulate the senses through design and interiors. With this in mind we worked with the show organisers to create a number of interactive spaces to encourage the imagination of the visitor, to make people think about pushing the boundaries in terms of design and inspiring through sound, sight, smells and touch.
The first of our spaces was the Design Hub: The Urban Gallery
The Urban Gallery was an area on the show floor enabling visitors to be inspired by future design trend information and enthralled by unusual, innovative product design from all around the world. Our vision for the future city scape of Dubai seamlessly blends the urban city vibe with our natural environment and cutting edge technology; with that; our aspirations and aims for the future is to create a super-sustainable lifestyle.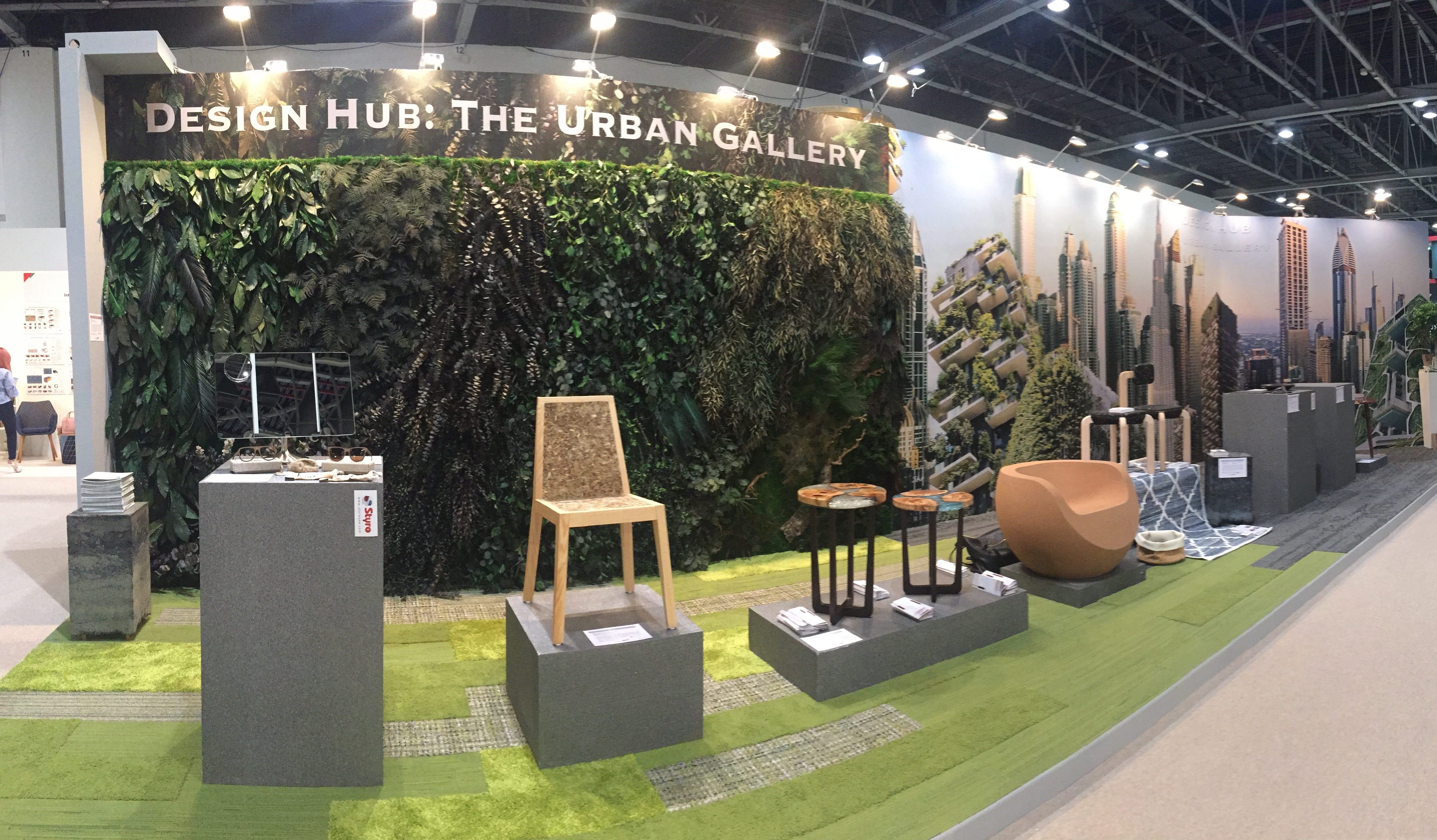 Each product showcased on the Design Hub has been designed to achieve 100% sustainability. Whether it is through their choice of materials or their manufacturing process; they all contribute to our environment in some way. From up-cycled textile waste rugs to bio-composite furniture; our gallery exhibited products designed with purpose.
Here is a list of all the products displayed on the Hub;
Huge thank you to Moss Trend who created the zero maintenance foliage wall on the hub. The vertical gardens are made from moss and foliage that has been collected, dried and then preserved. The lush Reindeermoss grows in protected areas of Lapland's forests and through Italian design and research they have been able to stabilize it so that no sunlight or water is required to maintain it.
Interface supplied the flooring for our Design Hub. As pioneers in sustainability, Interface advocate biophilic design and know it is critical to human health to include natural systems and processes in our buildings and constructed landscapes. Interface explore the power of biophilic inspired designs throughout a number of their collections; which directly mimic natural surfaces and textures.
Styro supplied our 'urban' building plinths to act as a platform to showcase the products. They are able to create quality, attractive decoration and art pieces to give a remarkable impression at events. STYRO is a leading company in Art & Decor that specializes in theme functions, foam sculpturing and carving.
Did you know… to make wooden pencils, forests the size of 90 tennis courts are cut down every minute to supply wood. Many pencil manufactures use wood taken from the rain forest and deforestation is a major cause of many negative environmental changes. Treewise pencils however are made from 100% recycled newspapers, they are made without using any toxic chemicals/polymers/plastic and come with a promise of no breakage while sharpening; making the pencil last longer. We were giving them away on the Design Hub! Let us know what you think if you managed to grab one!
This premium collection of handcrafted, sustainable eyewear proved very popular at the show. The frames are made from organic plant fibre; making them one of the most unique, eco-friendly and innovative on the market. Hemp Eyewear was born thanks to a successful Kickstarter campaign in 2014 which raised 150% of their funding goal.
The wide-view sensor mirror from Simple Human allows you to see yourself in the best light with perfect clarity. The tru-lux light system simulates natural sunlight, to show more color variation and more detail with more accuracy. This mirror can connect to your phone; the app enables you to capture light settings from the world around you and accurately recreates them in the mirror so you can perfectly apply your makeup.
The Artichair is a furniture piece made from a bio-composite material and attracted a lot of attention on our hub. The cardoon, also called the artichoke thistle, is a thistle-like plant native to the western and central Mediterranean region, where it was domesticated in ancient times. This project has involved the development of a new eco-material, and explored possible applications for it within product design.
Twin Tables by Aperçu Design
Aperçu means an insight, an immediate impression or a brief sketch, they focus on redefining the concept of modern living in which their furniture collection embraces the beauty of imperfection. Based in Amman, this design duo create beautifully crafted furniture pieces from solid olive wood with crystalized Resin on wood support.
The Moon Chair by MBM Cork Solutions & Granorte
The Moon Chair is made from 100% Cork produced from the outer bark of the cork oak tree; grown mainly in the Mediterranean region of the world. This tree has a life span of 250 – 350 years and remains the only tree whose bark can regenerate itself after harvest; leaving the tree unharmed. It is truly a renewable and environmentally friendly resource; its exceptional characteristics makes cork a naturally sustainable product contributing to the preservation of a unique habitat in the world. Visitors who tested the chair commented how surprisingly comfy it was!
Rubber Crumb Stool by Architecture + Other Things & Macron Seat by Kalo
Both products were created for Dubai Design Days 2017. The project (commissioned by Bee'ah) aimed to explore the full potential of using locally recycled rubber crumbs from old car tires in the design and manufacture of innovative furniture. Bee'ah sets a benchmark in sustainability, for cities and communities everywhere. As part of its mission to adopt a holistic approach to environmental protection, Bee'ah encourages recycling for the purpose of recovering waste into valuable resources.
Kalo mixes wood shavings in with the rubber crumb which are created during the process of making the wooden legs, giving the rubber seats a contrasting speckled look.
"The world is small and precious" – Sugarcane Trading Co nurtures this truth with rugs meticulously handmade from upcycled clothing offcuts; textile waste that would otherwise end up as landfill. Their commitment is to support artisan communities who product products with the lightest environmental impact.
Welsh Slateware
Hidden beneath the mountains and valleys of North Wales in the UK lies the world's finest natural slate. The 500-million-year-old stone is carefully quarried and shaped to craft exceptionally luxurious, natural products. This unique bowl has a multi-hued natural veining making each piece individual – bring natural materials into your home.
Salt Rock Candles by Sirocco Living (Dubai distributor – Hansson Living)
Compressed through thousands of years in the underground around the oasis of Siwa in the Sahara Desert is a dense layer of salt. From great blocks of this salt the artisans are able to carve shapes and form beautiful pieces of saltrocks e.g. to be used for candlelights. Visible in the salt are stripes of grey-brown sand, these stripes are remnants of the great sandstorms roaming the area throughout the years. The light filtered through the salt crystals is amazingly soft and pleasant.
Fish Skin Leather Cushions by Sirocco Living (Dubai distributor – Hansson Living)
At the tannery located in Iceland they have produced fish leather for around 20 years. The tannery is recognized for sustainability and for being eco-friendly. The production of fish leather from non-endangered fish species (e.g. salmon and cod) is a by-product of all of the fish caught and consumed, making Sirocco Living products sustainable and a good example of environmentally friendly producers.
Rose Petal Coffee Table by The Study
This table was made as part of a group The Study Beirut; a collaboration aimed at experimental design and material research. "Exp 01: Synergy" delves into the sensory world of traditional Lebanese remedial herbs and culinary spices, recapturing the seemingly ephemeral experience of spice shops. The outcome being a coffee table that showcases an age-old trade and tradition. These organic and recycled materials function as the building blocks of not just sustainable living but living as a product of sustainability.
Check out our Instagram for more photos from the show.