The Scarlet Opus team have recently been to the Exclusively Housewares and Exclusively Electrical Shows in London. We showcased 4 key trends for 2020; specific to the Kitchen and Dining sectors. Not only do we suggest relevant product direction; in terms of colour palette, material, patterns and style; we also include the food focus that is centred around each story, allowing manufactures, retailers, buyers and the media to fully understand the context and driving forces behind the aesthetic direction.
This blog post gives you a brief snapshot of our trend display at the show including an overview of some of the key food trends we expect to see in 2020 and beyond…
---
1. The Return of Fine Dining
We have started to see an evolved model of fine dining restaurants opening in cities around the world with a sense of theatre; making 'eating out' a special occasion again. This trend is driven by the experience economy, where younger generations are seeking new and creative ways to explore the 'art of dining' as opposed to the fast and informal experience they are accustomed to.
Although casual dining at home may be the norm now… once we get to the end of 2019 and into 2020 we expect to see the 'fine dining' restaurant trend influencing home dining trends, particularly when it comes to entertaining. As the economic impact of BREXIT kicks in, affecting the cost of living, we predict an increase in the creation of 'at home' events with a sense of occasion. Beautifully presented tables; from folded napkins to exquisite glassware, dining etiquette, balancing courses & selecting wines – this is about giving guests a special experience rather than trying to impress or show off.
2. Celebrate the Roaring 2020's
Of course we will be heading back to the 20's and we expect to see many themed New year's eve and Christmas party events taking place. A resurgence of the cocktail culture and at home bar-tending will direct giftware as this fine dining and luxury drinking movement influences glassware design to be elegant and sophisticated. 
Subtle indications of deco-inspired patterns can be used alongside dark walnut woods, deep indigo blue and gleaming brass as we favour a return to high-shine and gloss rather than matte finishes. A style that is modern and refined yet classic and elegant.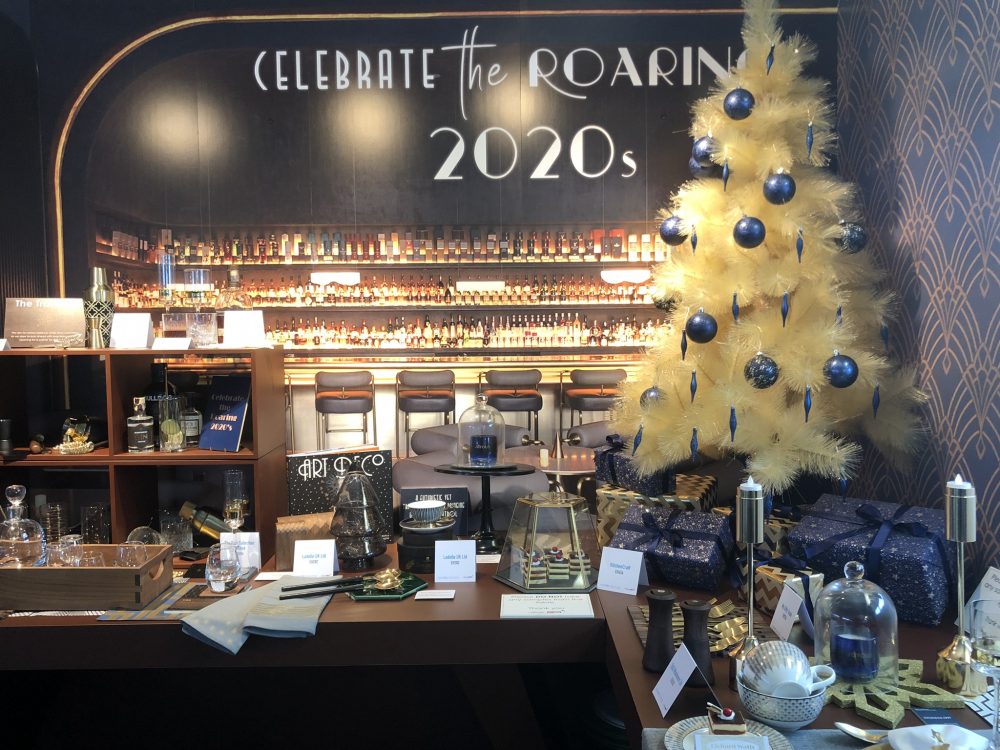 3. An Exploration of Japanese Cuisine
During the Summer of the Tokyo Olympics in 2020 we expect consumers to become more curious, experimental and confident with Japanese dishes, ingredients and flavours… certainly cooking programmes, bloggers, food magazines and supermarkets will be featuring Japanese Cuisine. On our display at the show, we focused on exhibiting product that could provide a platform for the effortlessly stylish presentation of Japanese fish dishes such as miso glazed salmon, fish and vegetable tempura, stir-fry, BBQ grilling and Sushi – whether sushi rolls, sushi burger, sushi burrito, sushi bowls or even sushi cones.
We displayed elegantly frosted glassware; perfect for drinking Japanese spirits; and ergonomic, beautifully textured vessels with a range of surface finishes that are perfect to hold Matcha tea.
4. Lets go Global
Food provides a way to travel the world, getting to know different cultures. Its an adventure people can have in their own kitchens. Consumers are increasingly looking to satisfy their creativity, as well as to be transported; to escape the norm; a type of global tourism through food. Food mash-ups give home-chefs the freedom to experiment, to be daring and mix different food origins, technique and flavours which are getting bolder, spicier and more often than not served in bowls and on platters or trays.
5. From Plot to Plate
The grow-your-own movement is certainly gaining momentum, whether it is in back gardens, allotments, on balconies or even indoors; people are increasingly finding time and space to grow their own food. A survey by WyeVale Garden Centres found there are more than 90,000 Brits on allotment waiting lists and more interestingly their sales of vegetable plants is up 30%. They partly attribute this to the rise of vegetarianism and veganism as well even people preparing to be a little more self sufficient because of concerns regarding Brexit and possible issues with imported food supplies.
Growing our own produce is especially important because it is about sustainability, collaboration and community, we're seeing so many community farming initiatives and garden projects on the rise as well as work-based gardens being created in our towns and cities. With all that in mind… books and products that connect the growing of food with the preparation and eating of food will continue to trend up and this will likely increase because of climate change, plant-based diets and overall wellbeing.
6. Sustainability
One of our display tables at the show was dedicated to raising awareness of climate change, plastic pollution and our environmental impact within the industry. We showcased a variety of material samples from different designers all around the world as well as exhibitor products that have an ecological agenda; aiming to address waste issues. From dish sponges made from walnuts, grass straws and recycled textiles to drinking cups made from rice husks, bamboo tableware and chemical free kitchen cleaning products, we endorsed those who actively encouraged plastic-free, sustainable living for a better future.
Thank you to all exhibitors who provided their product for us to display. It was also great to work alongside The Food People and a big thank you to the Paper Lounge who supplied the fantastic furniture featured throughout the trend area.